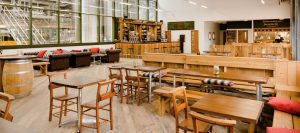 Tucked away in the idyllic village of Yattendon, nr Newbury,  is a brewery.  Not just any brewery, one that's grown from a few sheds behind the Pot Kiln pub in Frilsham to the high tech modern brewery of today in an old dairy.  The hugely successful West Berkshire Brewery  has asked Ruby's to bring vintage and retro to their Tap Room on Saturday 18th August.
How could we refuse?  Especially as the brewery is in Lyn's home village (and she has shares but don't tell anyone!)
So starting at 11am, we will be offering the finest vintage and retro to all beer lovers and everyone else.  The Tap Room sells a variety of WBB beers such as Good Old Boy and Renegade lager plus a good selection of wines and spirits.  The food ain't bad either!
So come along and say hello – you won't be sorry!  Postcode is RG18 0XT